The Forum Custom series represents the master class of the noble forge M-Guitars in Gdansk. The best tone woods, hand-wound Seymour Duncan USA pickups and first-class premium hardware from the German manufacturer Schaller come together here and are rounded off with finesses such as abalone bindings, gold hardware or the carefully coordinated transparent finish. Fame Forum Custom – a noble guitar of superlatives! The Fame Forum Custom convinces as a high-quality electric guitar with noble Schaller tuners for a high playing comfort. The mahogany body with selected curly maple top and recessed controls ensure comfortable playability, while the generous cutaways provide unobstructed access across the entire neck. This is crafted from mahogany and traditionally glued, while the slim yet contoured "C" profile sits comfortably in the hand, making any riff or lick feel like it comes naturally on the ebony fingerboard. On the amp, the tried and tested combination of a Seymour Duncan SH-2n Jazz on the neck and a Seymour Duncan TB-4 JB on the bridge delivers versatile sounds between pop, blues and rock, which are enhanced by authentic single coil sounds thanks to the coil split for classic rock sounds, singing blues leads and aggressive metal riffs. A GTM piezo bridge with solid GraphTech tailpieces from Schaller and precise M6 locking tuners from the same company complete the Fame Forum Custom
High gloss finish

Mahogany body

Selected curly maple top

Mahogany with "C" profile

Ebony fingerboard with abalone forum inlay in 12 frets

Seymour Duncan SH-2n Jazz neck pickup

Seymour Duncan TB-4 JB bridge pickup

3-way coil tap mini switch

Hardware parts with 24-karat gold plating

Schaller GTM piezo bridge with GraphTech tailpiece

Available in:

– Flamed Maple Top Tobacco Brown Sunburst –

Split Maple Top Natural

– Flamed Maple Top Transparent Emerald Green

– Flamed Maple Top Transparent Red

– Flamed Maple Top Transparent Blue – Q

uilted Maple Top Transparent Brown
FAME FORUM CUSTOM HIGHLIGHTS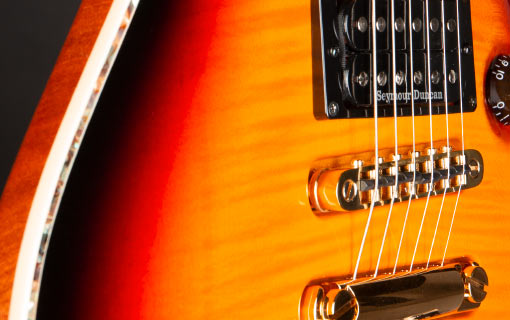 Seymour Duncan – Sounds between Blues and Rock
Classic rock sounds, singing blues leads and aggressive metal riffs are the métier of the classic Seymour Duncan combination of an SH-4b JB Model humbucker at the bridge and an SH-2n Jazz pickup in the neck position. Hand-wound and made in the United States, the market leader's pickups feature Alnico 5 magnets and provide a well-balanced output with convincing pressure without giving up dynamic range. Last but not least, both pickups can be switched to single coil mode via Mini Switch.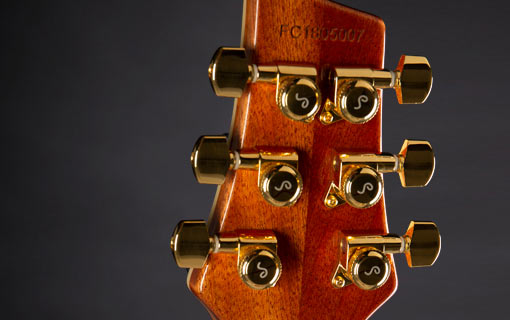 Schaller Premium Hardware
Of course, no expense has been spared when it comes to the hardware: the noble guitar, which is fully equipped with high-quality Schaller parts, has a GTM piezo bridge with string riders from GraphTech, solid Schaller M6 clamp machine heads with backlocking function and security locks already installed at the factory for danger-free stage performances. Of course, all hardware parts are plated with 24-carat gold. When we talk about premium hardware, we mean it!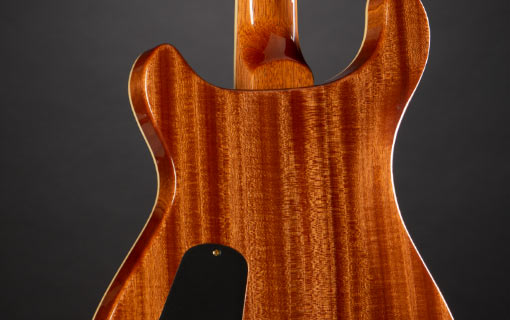 Premium tonewoods & ergonomic design
The body is made of mahogany and has a two-piece top made of shimmering quilt maple. The shimmering iridescent abalone purfling with cream-coloured binding adds a further visual depth effect. Both fast runs and organic bends are ideally supported by the slender yet contoured 'C' profile of the mahogany neck. For accessibility to the higher registers, the Forum Custom features a flattened neck foot, while the extended neck truss underlines values such as sustain and construction stability.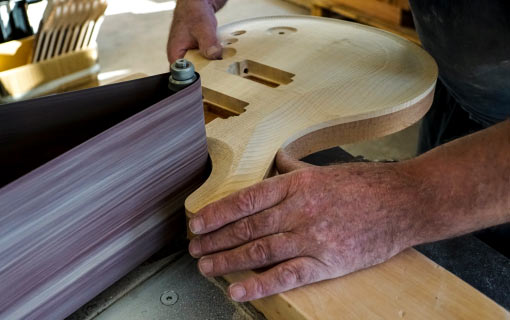 FAME – Handmade in Europe
When you hold and play a FAME Forum, you feel the years of expertise and dedication of the instrument makers, most of whom are musicians themselves. "Little known instrument makers with a special eye for detail" – this is exactly true: Mayones pays attention to the quality and subtle elegance of the products. They used only the best woods – carefully dried and stored.
FURTHER FAME Custom MODELS