The Fame Baphomet II 4 20th Anniversary Silver Leaf is a handmade noble bass, which is provided with a limited finish of real gold leaf for the 20th anniversary of the Fame brand. Featuring an extremely chic wood selection and optimal playing characteristics, the electric bass offers the famously versatile Baphomet sound for attack-rich slaps and wide-ranging metal sounds. Accordingly, the four-stringer features a slightly arched ash body and a six-bolt maple and mahogany neck, whose flat "D" profile fits comfortably in the hand. Two active MEC Jazz single-coil pickups and an active 2-band tone control from the same company also ensure a versatile sound spectrum that skilfully covers every genre with high assertiveness. On the hardware side, the Fame Baphomet II 20th Anniversary is also well equipped with a WSC SI4 bridge and precise WSC JB15 tuners.
available as 5- and 4-string electric bass – made in Gdansk

Ash body

Slight body curvature for a comfortable fit to the body

Six-piece maple-mahogany neck with five screws

Ebony fingerboard with 20th Anniversary inlay

"D" neck profile

Two active MEC Jazz single coil pickups

Active MEC BEC2 2-band tone control

WSC JB15 bass tuner

WSC SI4 bass bridge

Schaller S-Locks
FAME BAPHOMET II HIGHLIGHTS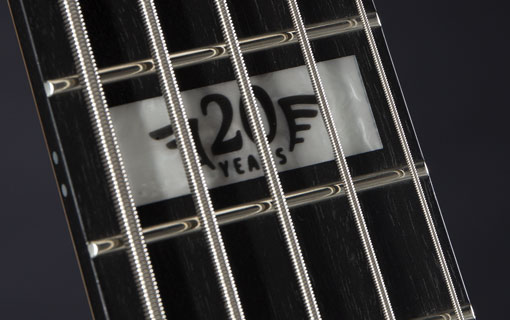 First class woods and superior playability
For the construction of the Fame Baphomet II only hand-selected woods are used, which guarantee optimal sound and playing characteristics. Accordingly, the body made of light Black Limba supports a powerful sound, while the gentle arching guarantees a comfortable fit to the player. The five-piece neck made of mahogany with separating maple veneers is screwed six times for an especially stable connection and offers best playing characteristics with a slim "D" profile over all 24 frets of the Pau Ferro fingerboard.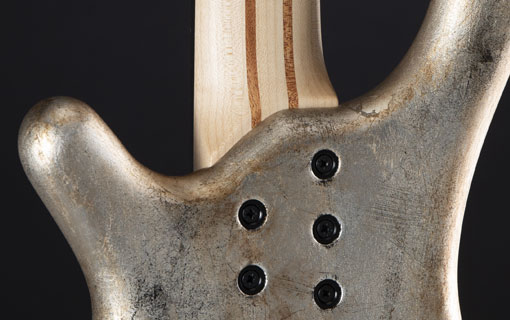 Fame Baphomet II with indestructible hardware
Last but not least, the Fame Baphomet II 4 is equipped with indestructible hardware that guarantees long-lasting playing pleasure with unlimited functionality. Accordingly, the massive WSC SI4 bass bridge on the body supports the even sound development, while four individual string tabs ensure optimal adjustment of intonation and string position. On the headstock, four encapsulated WSC JB15 tuners ensure accurate and stable tuning of the four-stringer.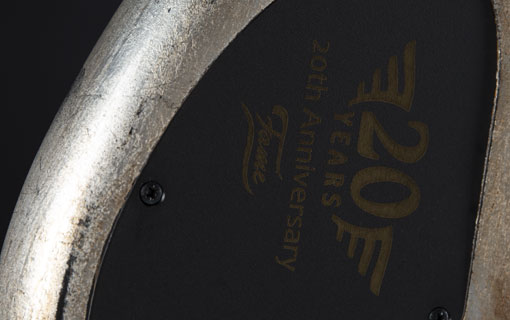 MEC pickups and electronics
The electrical tone conversion of the Fame Baphomet II 4 is done by two active MEC Jazz Single Coils. Equipped with ceramic magnets, the pickups convince with a particularly transparent sound that combines a high assertiveness with all-round capabilities for almost every musical style. Besides the volume and balance controls, the Fame Baphomet II 4 also offers an active MEC BEC2 2-band tone control. With treble and bass controls on a double potentiometer, the equaliser allows you to adjust the sound precisely, with first-class musical tuning even at extreme settings.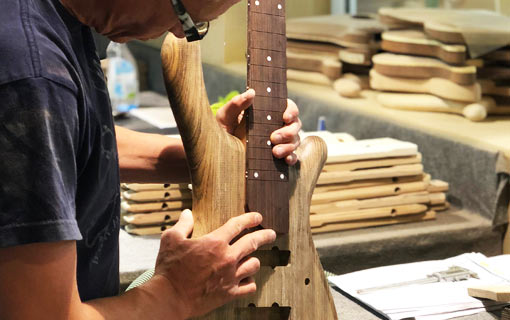 FAME – Handmade in Europe
When you hold and play a FAME bass, you feel the years of expertise and dedication of the instrument makers, most of whom are musicians themselves. "Little-known instrument makers with a special eye for detail" – this is exactly true: Mayones pays attention to the quality and subtle elegance of the products. They used only the best woods – carefully dried and stored.
FURTHER FAME BAPHOMET II - 20th Anniversary MODELS